Chicago Office Cleaning
A clean office can work wonders for you. When your office is sparkling clean, your employees are happy and motivated-eager to do their best. And what's more, you make a huge impression on visiting guests and clients.
Utilizing cutting edge equipment and advanced cleaning products, our highly trained professionals will turn your work environment into an invigorating clean space.
Want to promote employee satisfaction and productivity?
Carpet Cleaning Chicago offers you office cleaning services that will increase the freshness of your business atmosphere.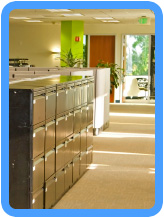 An office cleaning program tailored to your company's needs
Our champion office cleaning service ensures that your business will be uninterrupted and worry-free-able to maintain a businesslike atmosphere day after day. Allow us to do the work, while you concentrate on performance of your business.
We'll make it simple for you. We will determine an office cleaning program that will be custom-fit your specific needs of your business. We'll work diligently with you to determine your precise office cleaning needs.
Our office cleaning will coordinate actions and formulate a work schedule. Every step will be straightforward -from initial contact and actual cleaning process, to payment and then to complete customer satisfaction.
Quality Cleaning Service
At Carpet Cleaning Chicago we're very aware of all your office cleaning needs. Using modern equipment and remarkable cleaning products, our highly suitable staff of professionals takes pride in their work-they'll get the job done expeditiously and more efficiently.
We can offer your business with any or all of the following office cleaning services:
Deep carpet cleaning
Furniture cleaning
Ceramic tile cleaning
Window cleaning
Air duct cleaning
Fire restoration
Water damage restoration
Sweeping, mopping and polishing of floors
Restroom cleaning and disinfecting
Trash gathering, collection and removal
Stair and elevator cleaning
Entrance, reception area and hallway cleaning
Kitchen and lounge area cleaning including sinks, countertops, microwaves, toasters, and refrigerators
Horizontal surface dusting
Floor dusting, wet mop and machine scrubbing
High dusting
Stripping and refinishing
Sanitizing lavatory fixtures, sinks, partitions, walls, etc.
Vacuuming
Cleaning of light fixtures, baseboards, etc.
Move in and out cleaning
High Staff Standards
At Carpet Cleaning Chicago we realize your business concerns and we make sure to carefully screen each and every employee. We require references and will not hire anyone unless he or she passes an in-depth interview and profile assessment. Our office cleaning personnel must be neat in appearance, well-spoken and professional at all times.
At Chicago Carpet Cleaning you can put your trust in the business office cleaning experts.
For more information on our office cleaning services contact us for a free estimate or call us 708-546-4750 or toll free at (866) 437-6665 for more information. We're happy to serve you!
Carpet Cleaning Chicago - your office cleaning of choice in the Chicago area.